Consider the following scenario:
You're in the market for new classy shoes. You want to get the best-fitting shoes possible, so you schedule a fitting visit with an in-store stylist.
After all, shoes are an investment item in your wardrobe, and you want to be sure it's the perfect size and style for you.
You do some internet research and pick a shoe at your preferred shop that you believe will be the greatest fit for you.
You go online to arrange an appointment and discover that the shop does not provide that option.
How do you make an appointment? You must pick up the phone and dial the store's number.
You hustle to examine your calendar on your phone while chatting with the stylist to discover the ideal day and time to arrange an appointment since you're on the run.
You confirm your appointment for Saturday, June 29, at 10 a.m. after some back and forth on availability.
Finally, you schedule the appointment in your calendar as a reminder.
Consider how simple it would have been to schedule the appointment online, where you could have checked the stylist's availability, choose the ideal time for you, and it would have been instantly placed on your calendar.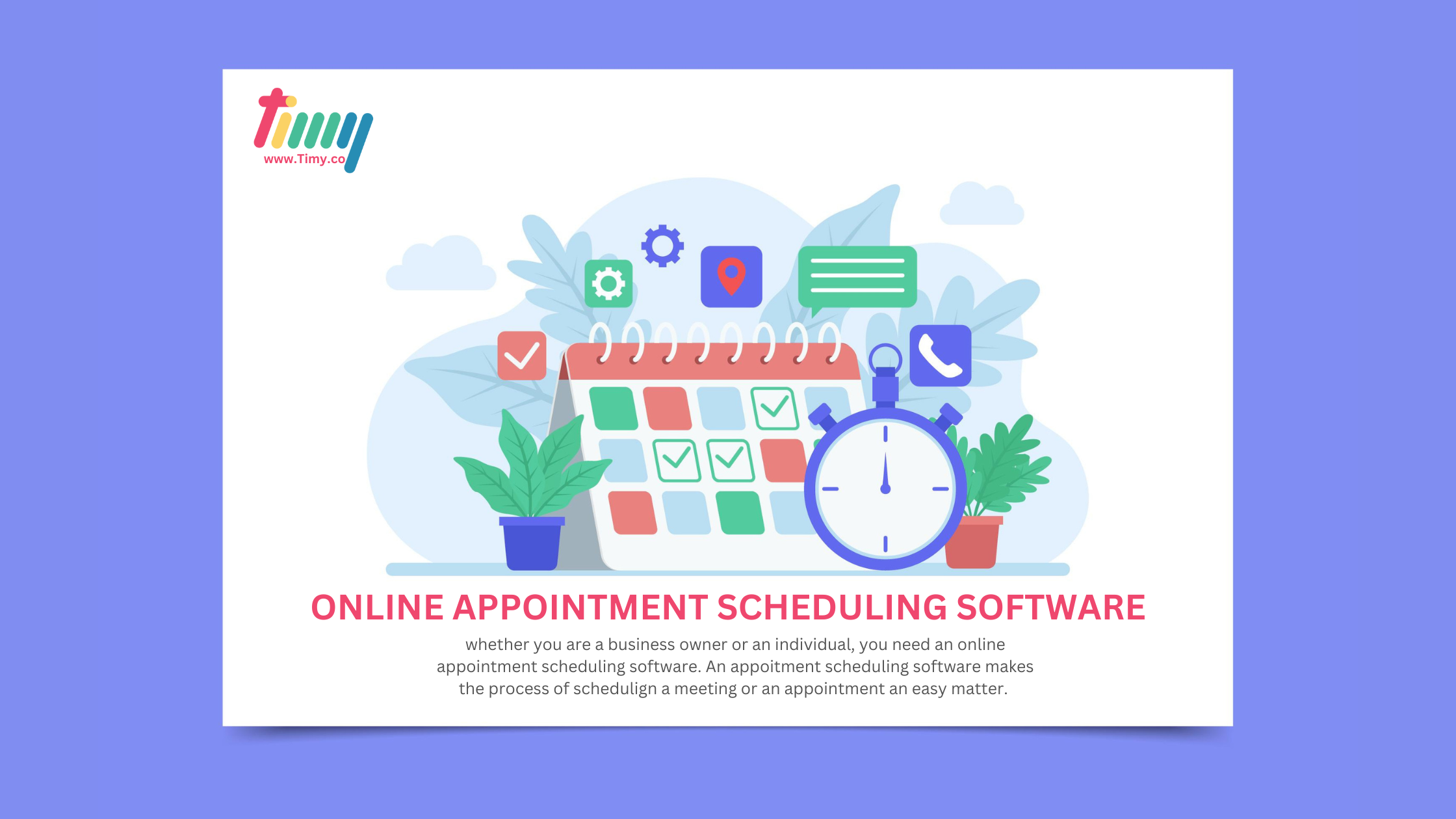 The good news is that appointment scheduling capabilities are available at certain stores and banks, resulting in compelling experiences for both customers and businesses.
Customers and companies both profit from appointment scheduling software.
Customers may interact with businesses at times that are convenient for them, and shops and banks can enhance customer engagement, loyalty, and conversion.
For Businesses
Online appointment scheduling systems have several benefits for businesses.
Brands, like yours, if you have one, can employ online appointment scheduling software to bring foot traffic back into their stores and branches by providing tailored experiences that customers cannot get elsewhere.
If you operate a business, whether you are a doctor, tailor, lower, accountant, etc., online appointment scheduling systems will add value to your business by enhancing many elements such as revenue, client experience, tasks organization, increasing customer rate, decreasing cancelation rate, and so on.
Consider the upsell potential of allowing your consumers to quickly schedule an appointment from the comfort of their own homes.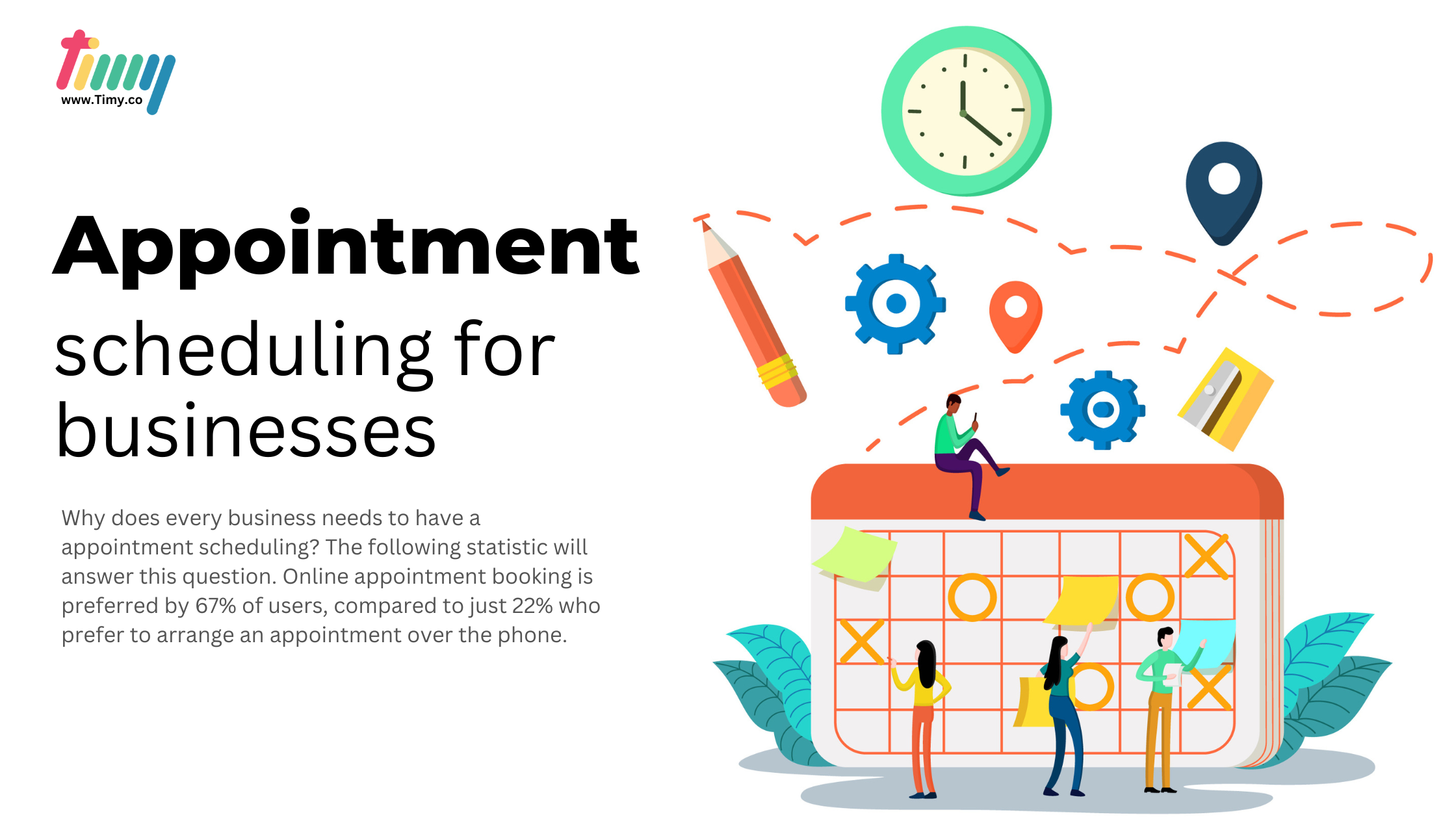 Allow the statistics to speak for themselves once again.
Online appointment booking is preferred by 67% of users, compared to just 22% who prefer to arrange an appointment over the phone.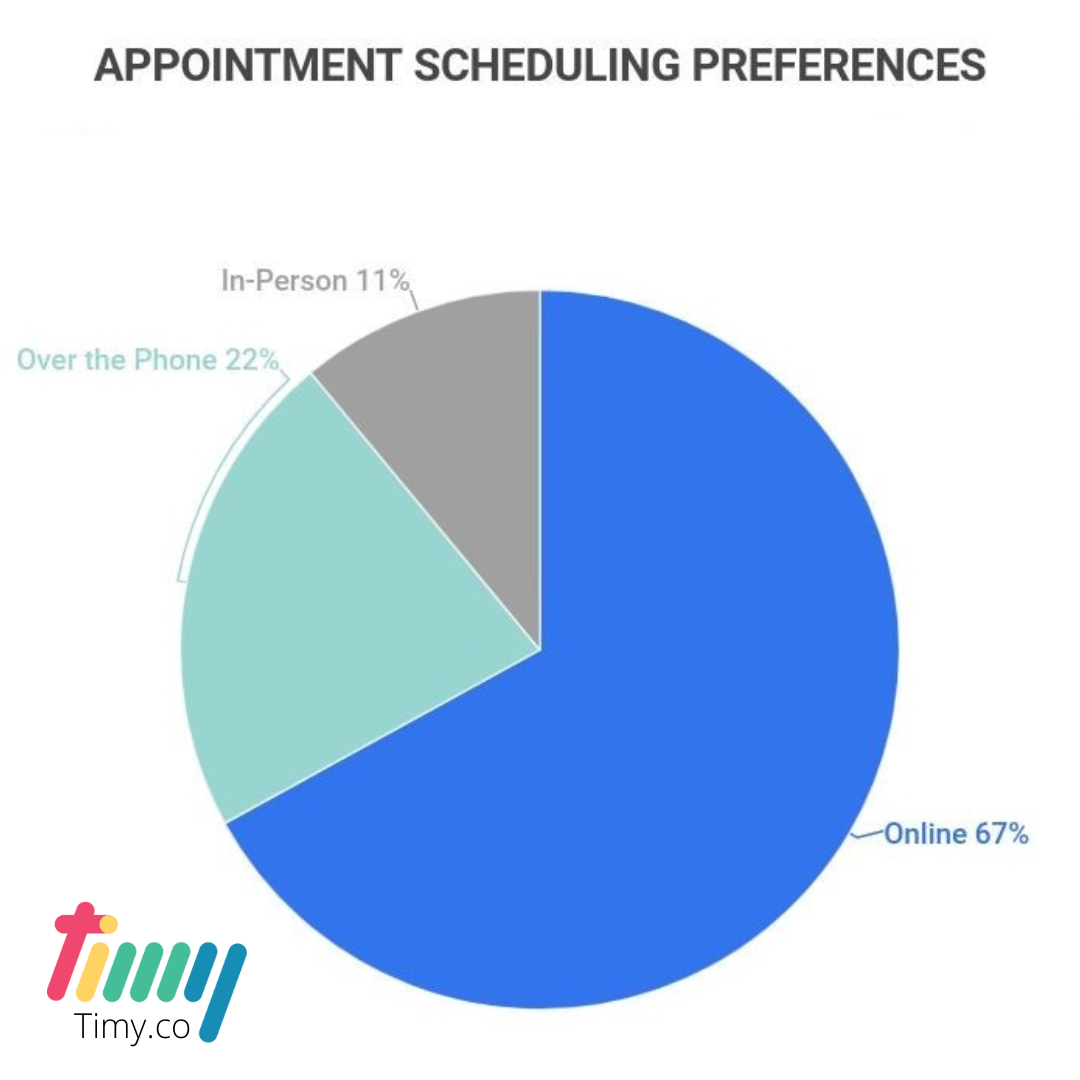 Furthermore, the same approach may be applied to practically every company on the planet.
Just ten years ago, it was difficult to establish a business, and if you did, you would have a major barrier in getting clients to your shop, store...
Do you understand why? Emma, I think it's obvious that internet existence was not as popular as it is now.
We were fortunate to live in a period when starting a business and expanding your online presence is simpler.
Nowadays, online presence is increasingly important, particularly for enterprises and small businesses.
Because the internet is used by 5.03 billion people globally, any business should have an online presence where it may expand and reach more clients.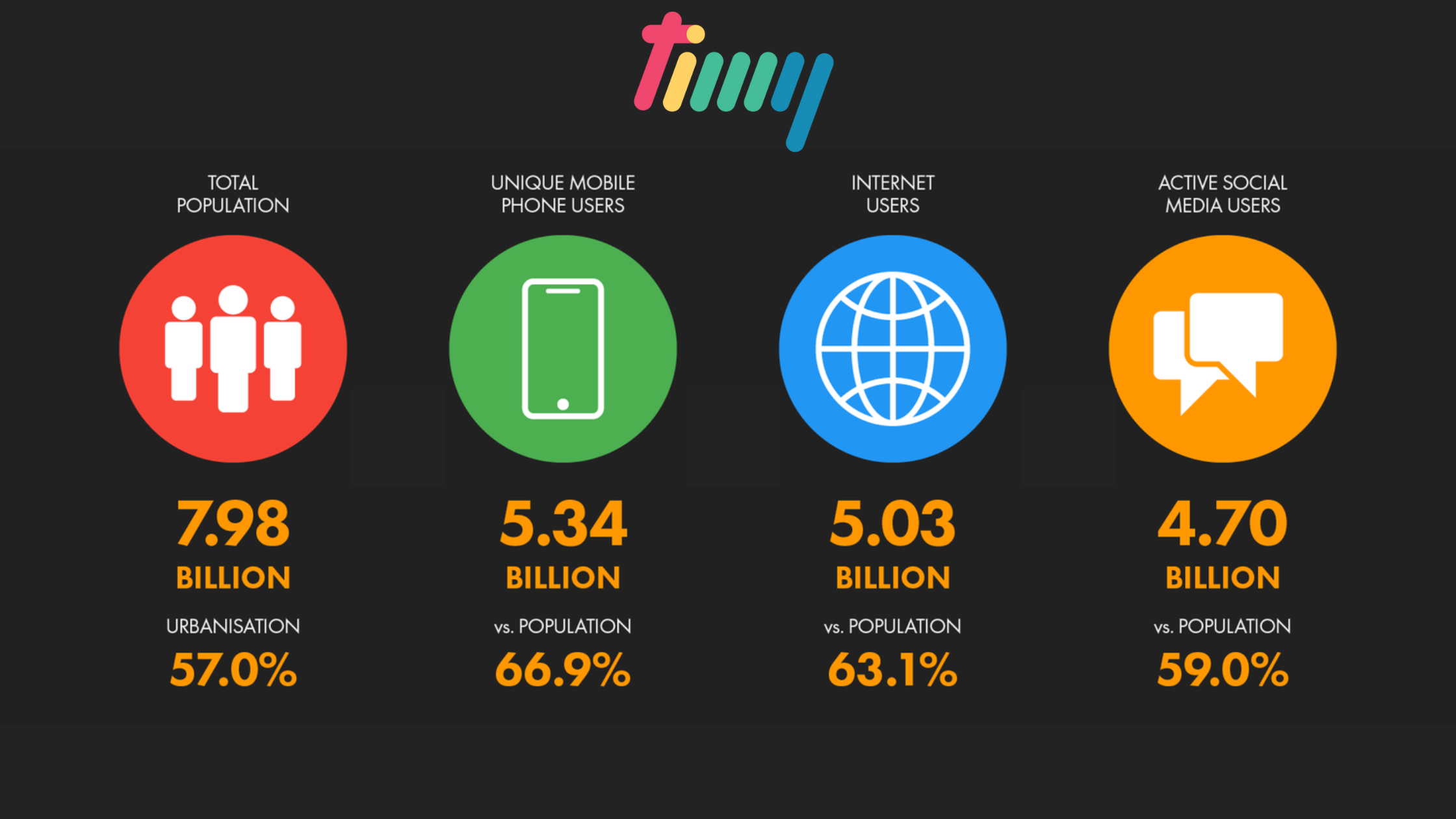 As a rule of thumb, use your online presence to take your company to the next level.
For Individuals
It is commonly acknowledged that appointment scheduling solutions such as Timy are life-altering for both businesses and people.
As previously said, online appointment scheduling is very useful to organizations in terms of income, client retention, user experience enhancement, and much more.
Individuals are subjected to the same rules.
Individuals benefit more from online appointment scheduling since it simplifies the process of arranging an appointment and saves them a lot of time.
Furthermore, since appointment scheduling systems enable individuals to make and edit appointments using web-based platforms quickly, individuals can book appointments 24 hours a day, 7 days a week.
Individuals have complete control over the appointment scheduling process, enabling them to meet at a time and location that works best for them.
As usual, let the number do the talking. In 2021, GetApp has conducted a case study about some online appointment scheduling users and the findings were truly shocking.
When questioned about the biggest pain of arranging appointments, 59% of respondents mentioned the disadvantages of booking via phone.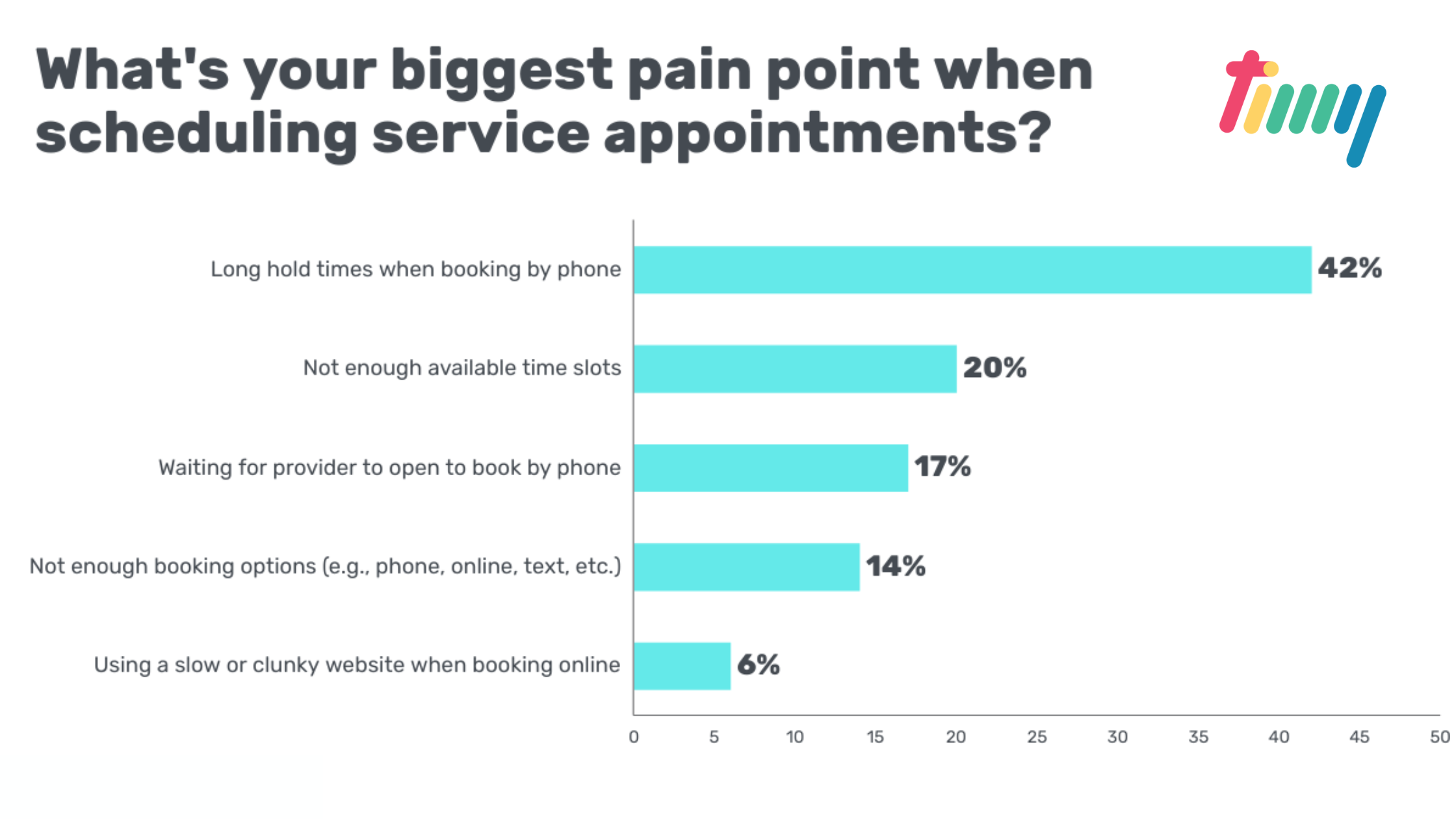 Users or customers are growing increasingly acclimated to the comforts of reserving at their leisure for services such as hotels, airlines, and taxis (Uber, anyone?).
According to our GetApp, customers want this choice to be extended to other services as well.
Ps, when I said 'this choice' I meant the online appointment scheduling choice.
Almost 70% of respondents said they would prefer to book online if several booking alternatives were available, compared to just 22% who would prefer to book via phone.
The picture below shows how likely users are to choose a service provider offering online appointment scheduling over one that does not.
You tell me...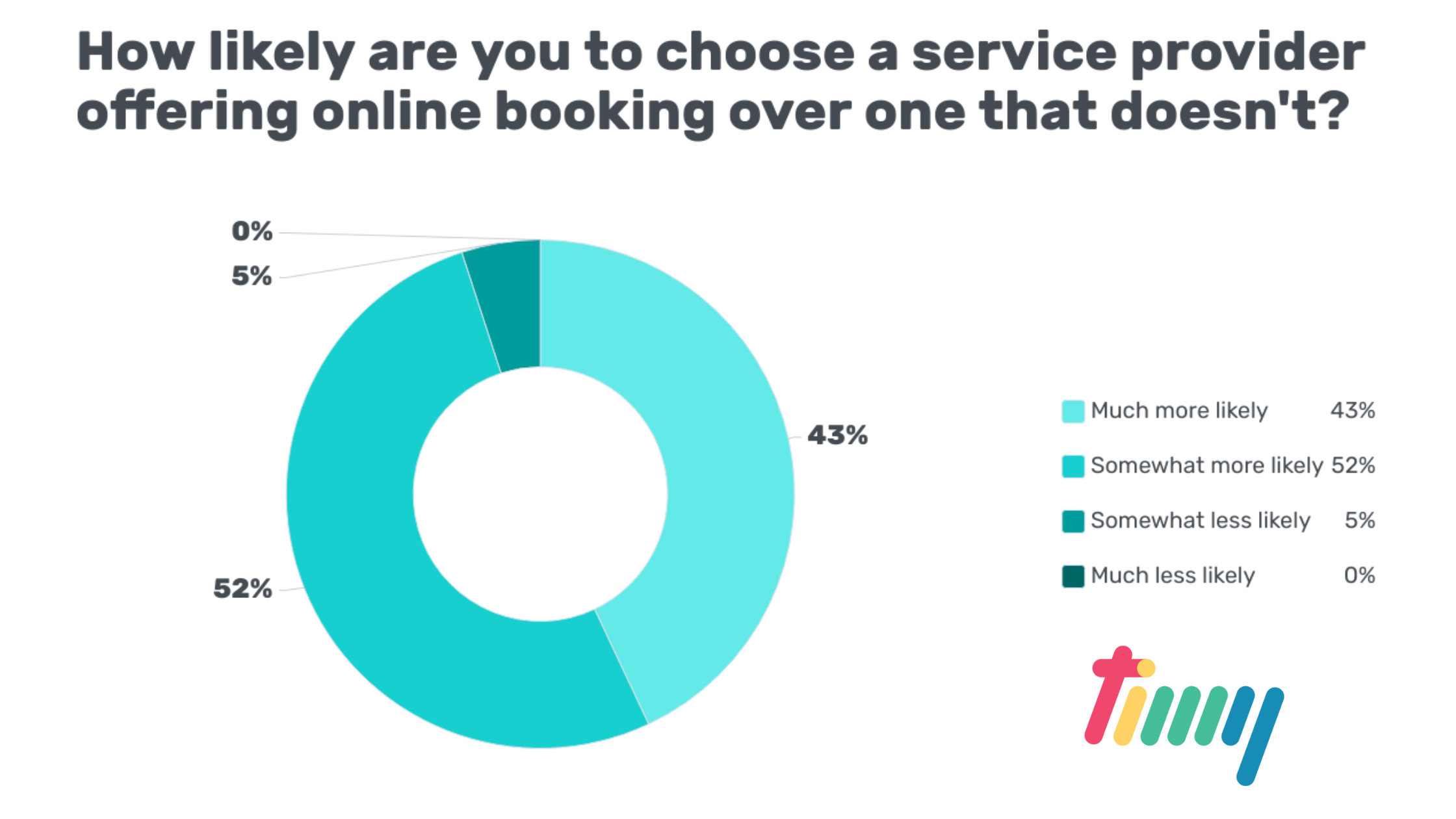 Finally, I strongly believe that appointment scheduling systems were created to make life simpler for both people and company owners.
What's the cost of appointment scheduling software?
As we all know,
A solid online appointment scheduling system does not come cheap. This tool has taken a significant amount of time and effort to develop. And that effort is not cheap.
The cost of high-quality online scheduling software varies and is determined by many variables.
We will discuss the usual normal pricing for a decent solution and precisely what you will receive for it. Let us now go into the matter.
So, essentially, price rates fluctuate from one platform to another, and now let's have a look at a variety of various online appointment scheduling systems and compare their pricing.
Bookedin
Bookedin is a cloud-based online appointment scheduling program and also the best appointment scheduling app that allows you to schedule appointments and collect payments for services.
Users may configure the platform to send automated confirmation messages, reminders, and notification receipts.
It is ideal for small firms or individual entrepreneurs that organize one-on-one meetings with clients and consumers.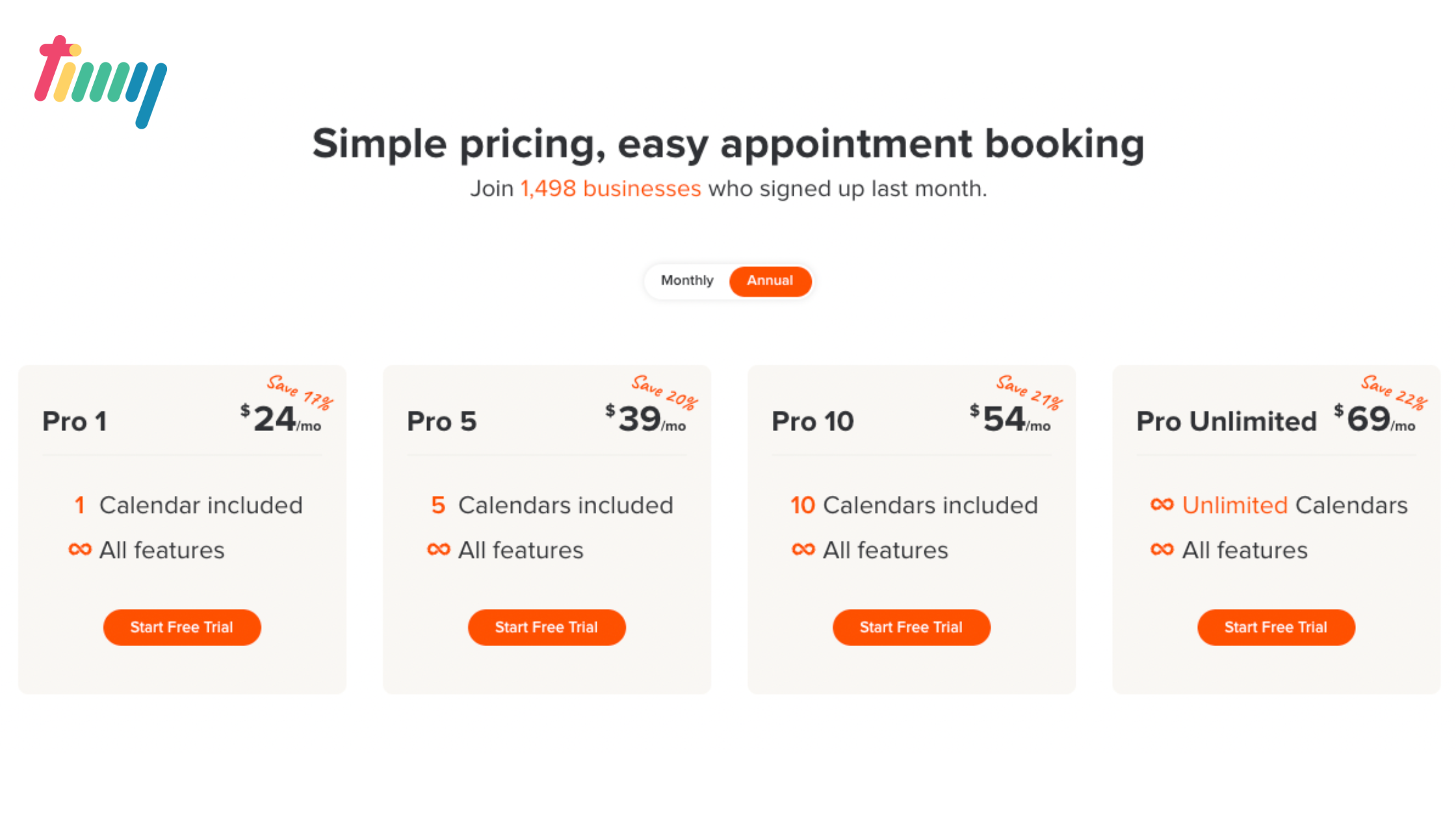 chilipiper
Chili Piper is one of the leading meeting lifecycle automation software, and the same goes for Square scheduling, assisting revenue teams in connecting with buyers more quickly and converting more money.
Personally, I consider this online appointment scheduling as an appointment reminder app.
This online appointment scheduling system instantly qualifies, routes, and schedules incoming leads. It allows you to schedule meetings with a single click from anywhere.
Businesses may utilize Chili Piper to add many users to the platform and observe scheduled meetings on a calendar. Managers may send email or SMS reminders to prospects and meeting assignees about upcoming appointments.
In addition, companies may gather lead information through online forms and automatically allocate incoming requests to agents depending on location, ownership, or criteria that have been set.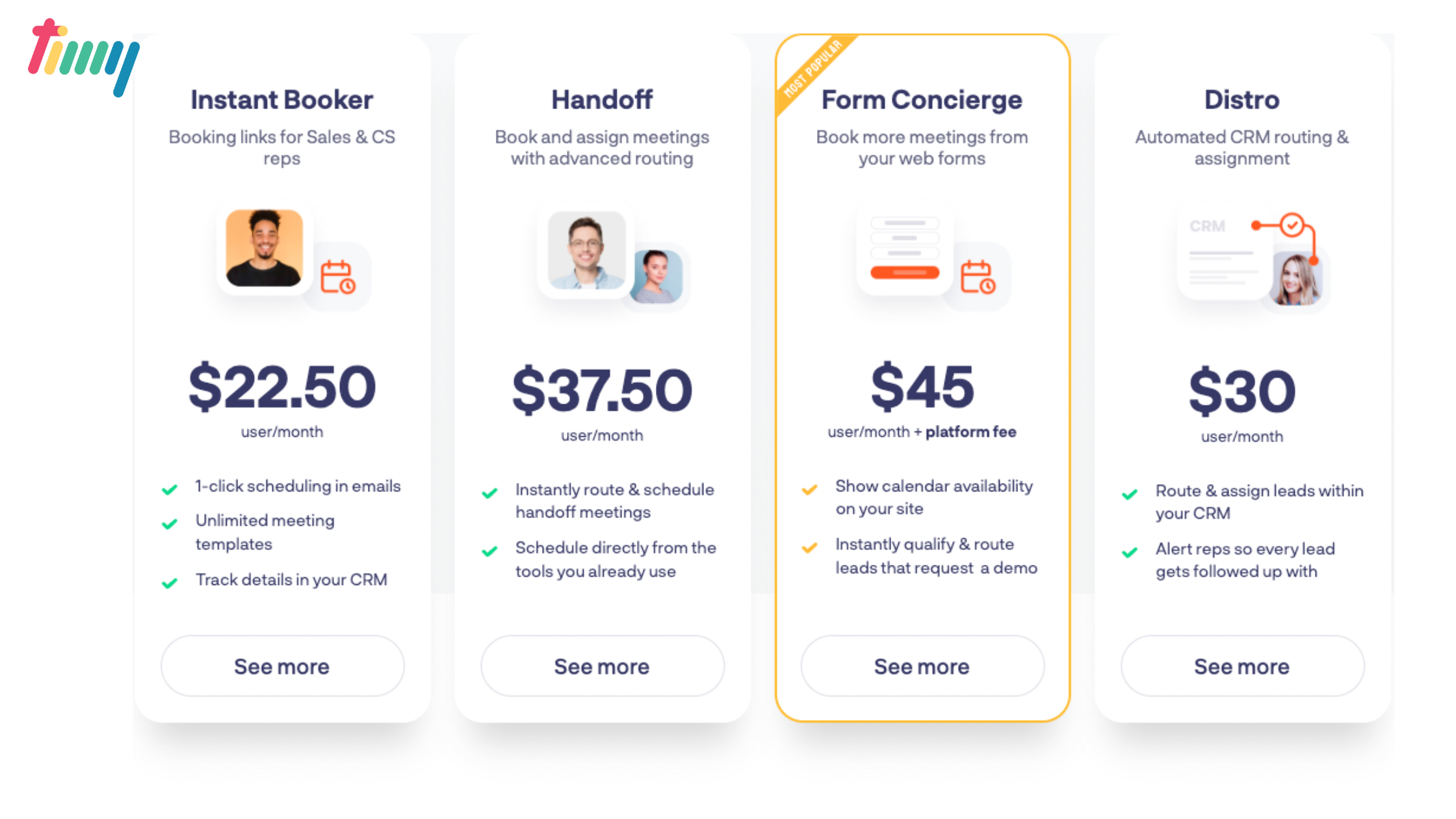 The list of appointment scheduling continues, but we will stop here since I believe you now have a sense of their price rates.
But what if I told you there's a better and cheaper appointment app?
Yes, I'm serious;
Do you remember when I said earlier remember Timy? Well, the time has come to explain everything about Timy.
Timy is highly recommended. You may wonder why. Timy, on the other hand, is AI-powered scheduling software that simplifies the appointment-making process for all service-based sectors.
Timy is more than simply an appointment scheduling tool; it is regarded as one of the top systems of all time. Ps, it is the first appointment scheduling website on the internet.
Furthermore, Timy allows its users to create a website for their business that their clients may use to arrange an appointment.
Do you believe this is the end? What, no, guest.
Timy provides these and other services for free. That is, you establish a Timy account and develop your website where you may offer your services and simply organize appointments with your consumers.